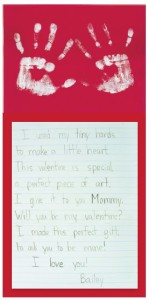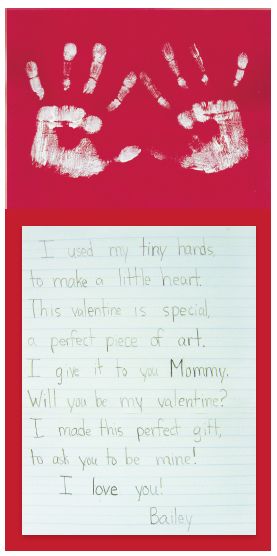 A few weeks ago, I posted about how excited I was that my Free Valentine's Day Handprint Poem on Teachers Pay Teachers reached over 1,000 downloads. To my surprise, my craft is now at OVER 10,000 DOWNLOADS. I can't help but to think about all the adorable handprints that are going to be made today because of this craft!
Here's what teachers have said about it:
"I teach in a rotating co-op preschool with 3-4 year olds. I can't wait to do this with them! Thanks!!"
"I am going to incorporate this into my speech therapy sessions & also have my own 2 kids make one for their Grandmother! Great job!"
"I will be doing this craft with my kindergarten class next week. So cute, and a good idea for a writing center."
"This is adorable! Thank you so much for sharing! As a mom, I always loved my children's hand prints. I know that the parents of my students will love them as well."
View more teacher comments on my Ratings & Comments page!
Whether you're a teacher, mom, dad, grandparent, or simply special someone, you could enjoy this craft with your little one's too. Children grow up way too fast! Their hand prints are such precious keepsakes! Download this free craft by clicking on the craft above.
This craft download includes the adorable poem on Valentine's-themed paper and writing paper. All you'll need to make it is paint, a paint brush, glue and construction paper, so it's super cheap for the classroom!
Here's the poem:
I used my tiny hands,
to make a little heart.
This Valentine is special,
a perfect piece of art.
I give it to you _______.
Will you be my valentine?
I made this perfect gift,
to ask you to be mine!
After you get your download, don't forget to rate this product and follow me for updates on any new, free crafts that I post or sales that I have! By the way, if you loved this Handprint Poem, you'll love my crafts for Easter. Keep any eye on my Teachers Pay Teachers site; I'll be uploading these soon! Did I mention some would be FREE, too?
Happy Valentine's Day! 🙂