This year is flying by, and I can't believe Easter is almost here! I've been busy working on some fun and educational Easter crafts and activities for your students! I posted most of them to my TeachersPayTeachers page, but keep an eye out because I still have another craft to post!!
FREE ITEMS
Jelly Bean Easter Craft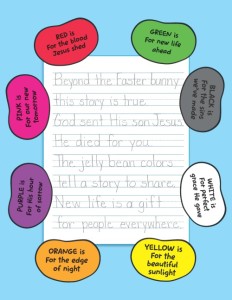 An Easter craft for your students to celebrate Jesus' death and resurrection! Have your students write the poem on the writing paper, and glue the poem to Easter-colored construction paper. Then, either have your students color the jelly beans the appropriate colors and cut them out, or have your students cut out the already-colored jelly beans. Have your students glue the jelly beans, starting with the RED one in the top left corner, clockwise all around their writing paper.
Poem:
Beyond the Easter bunny,
This story is true.
God sent his son Jesus.
He died for you.
The jelly bean colors tell a story to share.
New life is a gift
For people everywhere.
Stained Glass Art
This craft includes instructions and patterns to help your classroom create fun glass art! Students will love using their creations as window decorations! This quick and easy craft is great for Sunday school and at home!
PRICED ITEMS
Easter Crafts & Activities Book $3.50
Easter crafts and activities for the classroom, Sunday school or home! All crafts are complete with a mini-lesson, instructions and patterns!
Crafts & Lessons
Stained Glass Art teaches that God gave us the gift of his son Jesus!
Jesus Dies Cross Craft teaches that Jesus died for our sins!
Jesus is Alive Door Hangers teaches that Jesus died and rose again for us!
Tell Everyone About Jesus Wrist Bands teaches that Jesus wants us to follow Him everyday!
The Jelly Bean Prayer & Activity Book $4.50
These Easter activities for kids are centered on a meaningful Jelly Bean Prayer Poem, a unique prayer that uses jelly bean colors to teach about Jesus' death and resurrection. This 48-page printable book includes the prayer, coloring pages, scripture code breakers, word scrambles, crossword puzzles, dot-to-dot activities, mazes, words searches and an answer key. All activities are based on different lines of the prayer.
The Jelly Bean Prayer:
Red is for the blood that Jesus shed.
Green is for new life ahead.
Black is for the sins we've made.
White is for perfect grace He gave.
Yellow is for the beautiful sunlight.
Orange is for the edge of night.
Purple is for His hour of sorrow.
Pink is for our new tomorrow.
If you don't think you'll need all of those activities, I broke this printable book into smaller, less expensive printables:
The Jelly Bean Prayer Coloring Book $2.00
Easter Puzzles, Word Finds & Mazes $2.00
The Easter Story Word Finds $2.00
He Is Risen Activity Book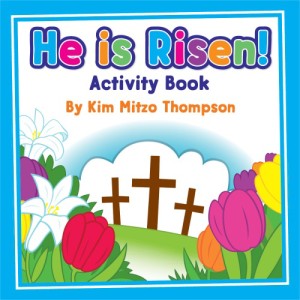 Celebrate the meaning of Easter with this collection of coloring pages, activities, and puzzles! Make Easter cookies and read scripture verses to explain the Resurrection to young children. Perfect for home, school or church! Includes 18 Easter Story coloring pages, 3 Scripture Code Breaking activities a word puzzle and a crossword puzzle, 2 coloring pages, 3 mini-books with coloring pages (Jesus Is the King, Jesus Died on a Cross, Jesus is Alive), and Easter cookie recipe with baking activity.
I also broke this book into smaller, less expensive printables:
                He Is Risen Coloring Book $2.00
                Easter Fun Printables $2.00
Easter Celebration Read-Along & Coloring Book $3.00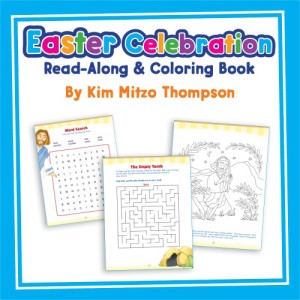 Celebrate Jesus with this printable Easter read-along and coloring book. Perfect for the classroom, Sunday school and home!
Includes:
17 page colorable, read-along book about the Easter Story
Easter word search
Hosanna! Drawing activity
The Empty Tomb maze
Why Do You Look For The Living Among The Dead? Word Scramble
Act 1:9-11 coloring page with scripture